Honourable A. Sabapathy's Acheivements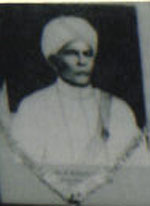 Even by Thalaiyali's illustrious track record of producing famous and prominent personalities, Honourable A. Sabapathy (fondly known as Ponnar) retains pride of place. His record as a politician, journalist, philanthropist and social activist has few equals in the whole of the island let alone Jaffna or Thalaiyali.
Mr. A. Sabapathy was born in 1853 to a family vested with wealth, power and prestige. The extended Thalaiyali family was very prominent in all fields in Jaffna. His father M. Arunasalam Chettiar was not only one of the wealthiest men in Jaffna but also a man who owned ships and traded far and wide (including Burma, India etc.). His uncle Saravanamuthu was vested with the title of Udayar of Vannar Pannai East and also served as the acting Maniagar of Jaffna. Coveted Positions of that era.
Saravanamuthu was married to the daughter of a chieftain from Pungudutheevu who descended from the 13th Century Princely "Iru Marapum Thooa" Thani Nayaga Mudali Clan. His other uncle Namasivayam Pillai was also a reputed and wealthy merchant. His father's elder brother Dr. M. Covington had already distinguished himself after qualifying from the UK as a Surgeon and settling down and serving the Eastern Province (Batticaloa)admirably. He is considered Sri Lanka's first Brisih educated Medical Professional and the Covington Road in Batticaloa is named after him.
Born into such eminence Honourable A. Sabapathy did not disappoint. He had his formal education at Jaffna Central College.
Being a man of wealth, he always volunteered where acts of charity or philanthropy were involved. This would lead him to eventually assume positions of power and responsibility starting from the 1880's.
When the Great Arumuga Navalar passed away and the Saiva Tamils of Jaffna felt the need to preserve and protect their heritage, a decision was taken to form the Saiva Paripalana Sabha. Mr. A. Sabapathy was, as befitting his stature then one of its founding committee members. The Saiva Paripalana Saba is famous for amongst other things, founding and managing Jaffna Hindu College and its affiliated schools and also editing two Newspapers "Indhu Sathanam" and "Hindu Organ". Being a founding committee member of the Saiva Paripalana Sabha ment more responsibilities to serve his people would follow.
When Jaffna Hindu College was founded, he was amongst those who contributed financially and he was also in the inaugural committee to manage it. He served as it's manager from 1913 to 1924. As a tribute to his service and contributions to Jaffna Hindu College, "Sabapathy" House is one of the houses in Jaffna Hindu College and few other affiliated schools.
Other than his contributions to the Hindu Colleges, as a politician he lobbied hard to get a National University in Jaffna. In one of his first Public Speeches after being nominated to the Legislative Council in 1917 he claimed the Colonial Government was dragged its feet unnecessarily and it was high time, Jaffna had a University of its own.
In the 1890's, Tamil Hindu Renaissance was taking place. Tamil Nationalism was being linked to Hinduism and Saiva Samayam as the indigenous religion. Leading Tamil figures invited Swami Vivekananda in 1897. A. Sabapathy was the Secretary of the reception committee. Thousands of people attended Jaffna Hindu College to get a glimpse of the Indian Guru. Mr. A. Sabapathy addressed the people and the meeting generated great interest and served as a catalyst for the birth of Tamil nationalism.
Many observers view this as an important event. The birth of Tamil Nationalism in modern day Ceylon.
His role as a leader centered around Jaffna Association. Initially founded in 1906 by leading members of Jaffna Society to articulate their views and politically aspirations, they would face bigger challenges in days to come. As a first step of local government the people of Jaffna lobbied and got a Local Board. That would allow decentralized governance of Jaffna. Mr. A. Sabapathy distinguished himself as a member of the Local Board in ensuring people's needs and aspirations were met satisfactorily. He was a committee member of Local Roads, Hospital, Rail and also one of the key figures behind the first Hospital for animals in Jaffna. Hence his contribution to the development of Jaffna cannot be ignored.
By 1916 Mr. A. Sabapathy was the peoples representative. He was the President of the only political organisation of Jaffna Tamils, the Jaffna Association. He was also involved directly in much of Jaffna's social and economic development.
As Editor of the Hindu Organ his paper was the legitimate voice of the local masses. Hence in 1917, facing growing calls the colonial government agreed to nominate Mr. A. Sabapathy as the 2nd Tamil member of the Legislative Council. His position as one of the leaders of Jaffna Tamils commenced.
As the President of Jaffna Association, he was a key figure in negotiating with the for greater autonomy for Ceylon as a whole and Jaffna in particular. The Jaffna Association then was the leading organization representing Jaffna Tamils political Aspirations.
Jaffna Association wanted to negotiate separately with the colonial Government for their needs. The Ceylonese leadership felt that a united front by all Ceylonese would be better and Jaffna Association would have to be a part of the greater Ceylon National Congress. Initially, Mr. A. Sabapathy felt that minority rights had to protected and as such the Jaffna Association would be better placed to do it alone. But a good friend of Mr. A. Sabapathy and a Giant of the pre – independence Ceylon, Sir P. Arunachalam intervened and the impasse was broken. The Tamils agreed to put up a united front with the Sinhalese to achieve more authority for the whole island in return the Singhalese would assure Tamils of an agreed number of seats.
The Jaffna Association & Mr. A. Sabapathy were betrayed. The Sinhala leaders refused to keep their promise and the Tamil Leadership was disillusioned. Hence a decision was taken to form the Tamil Mahajana Sabha in 1921 including all Tamils. Honourable A. Sabapathy was already president of Jaffna Association but was also nominated to be founding Vice President of the Tamil Mahajana Sabha.
Outside politics, A. Sabapathy was keen the Ceylon and Jaffna in particular attained self sufficiency in food production. During that era, it was about routine that Ceylon & Jaffna would face drought or suffer food shortage and India would send its grain and food supplies and help alleviate it. Mr. A. Sabapathy had influence & business and family links in India and was a key figure in ties with India.
In one serious drought in 1919 to 1920, India initially refused to send its food supplies to alleviate sufferings come by the drought in Ceylon & Jaffna. It was Mr. A. Sabapathy who chaired the delegation to India and successfully managed to convince the Indians about the severity of the drought and the need for food supplies. He stressed both in the Legislative Council and the Editorials of the Hindu Organ had the need for Jaffna and Ceylon to reach self-sufficiency in feeding itself.
Hence it would be pertinent to point out that the town that is now Killinochi was Forest Land. It was Mr. A. Sabapathy together with Sir Ponnampalam Ramanathan who cleared the jungles and made the rice fields. Of the 1000 acres, that were cleared by Mr. A. Sabapathy he donated 900 acres to the Government Farm. This enabled the government to re-distribute the land and it would not be unfair to say that Killinochi is the "Rice Bowl" of the North East of Sri Lanka.
No piece on Mr. A. Sabapathy would be complete without mentioning the Editor Sabapathy. It was as an editor that he really served his people. The Hindu Organ and Hindu Sadanam were published by the Saiva Paripalana Sabha as a voice of the Saiva Tamils of Ceylon. The Hindu Organ was the English version. Justice Chellapa Pillai was its first editor and he passed away 4 years later. It was decided that Mr. A. Sabapathy would take over the Editorship.
The transformation and rise of the Hindu Organ was spectacular. It began to be seen by all sections of Ceylon as the Voice of Tamils.
It Editorials were keenly anticipated. The political opinion, people's views and other articles were keenly read. It came to represent the pulse of the people of Jaffna. Even Sinhala leaders would keenly await the copies of Hindu Organ. In short span of time the Hindu Organ was the most widely read and circulated paper of the North East. The Hindu Organ tackled genuine issues like Child Labour, the changing times and unacceptability of certain social norms like the caste system, Tamil political aspirations and other significant issues of the people of North East of Sri Lanka. For all his other achievements, the Editor Sabapathy was the most popular Nation wide. Unfortunately, subsequent to his death, the Hindu Organ couldn't keep up his success.
His legacy stands even after 80 years of his death. The main road in Thalaiyali is fittingly named after him.
- Sabapathy.K